So it just so happens my particular flight path gave me a 10 hour layover in the capital of Ireland and as luck would have it, it was actually during some social hours. So instead of just sitting there in the airport I was inspired to do something that matters to me and explore a new city. Here is the play by play for what I did.
06:00
Get off the plane, arrive in Ireland for the first time! Woo!
Customs officer, zoom past baggage pick up and hunt down some tourist info. Yup. I still like to roll with a good old school paper map.
06:28
Take out €40 from the bank machine. (Euro, euro bills y'all!) My goal was to not spend any more than that.
My next objective was to get rid of an extra bag I was carrying (currently 3 carry ons - don't ask). I found a kiosk in the parking lot and stored 2 bags for pick up later.
06:44
Find the bus stop for a ride into town. They come every 10 minutes which is great. There are a couple of options but I took the Airlink because it seemed the most legit.
- €10 Round Trip Bus Ticket
I was told that Trinity College/Nassau would be the stop to get off at. This gives you most of the main sights within a 10 minute walking radius.
06:50
And I'm off to downtown! The trip takes about 20 minutes. No biggie. Gives me plenty of time to mark on my map what to check out. I was one of 3 travellers on the bus.
07:11
I arrived at Trinity College station and took a bit of a wander to map out the area. With most stores still being closed the first thing I was searching for was some WiFi and a toilette so I scouted a Nero Coffee and ordered a drink.
- €2.30 Tea
Making use of the wifi (no I did not do a facebook check in thank you very much) I marked out a few more points of interest and found a place to eat breakfast thanks to other traveller's recommendations called Cafe Sofia.
08:00
Crossed through the gardens, snapped some photos, made mental note to come back here later.
08:28
Found Cafe Sofia without too much trouble. Cosy place and being the first one there I was able to eat in peace. Ordered a protein packed meal and even got some free tea! Woo!
- €5.50+Tip
09:38
Back to St. Stephen's gardens and it's photo taking time!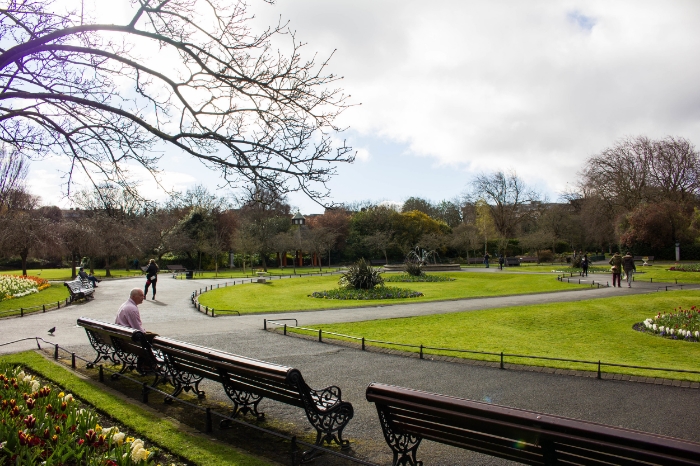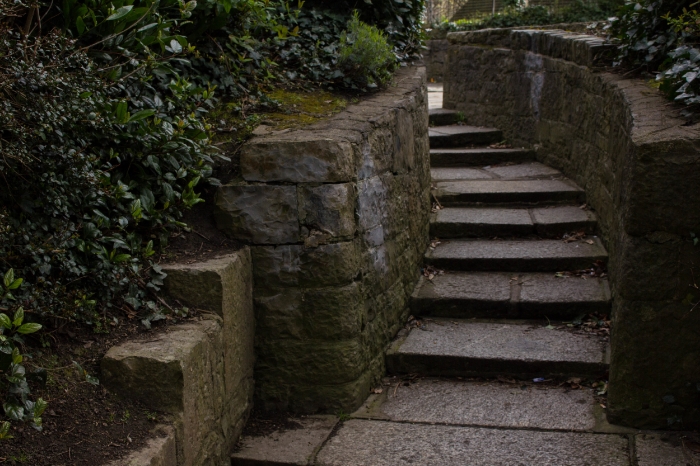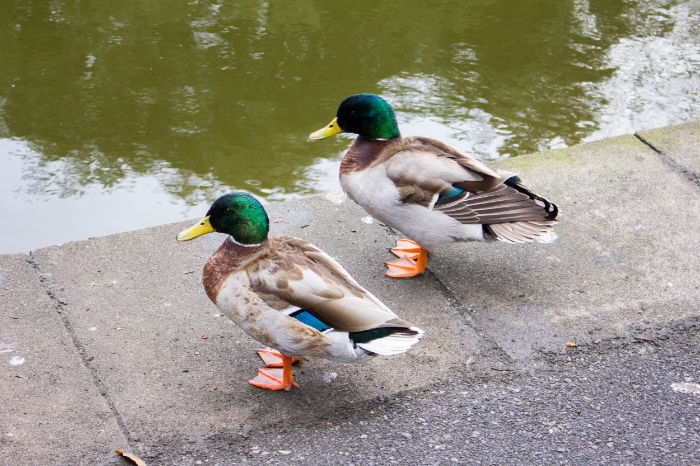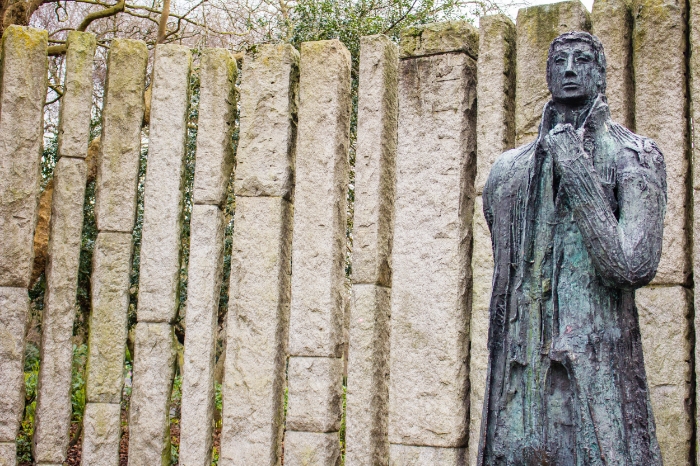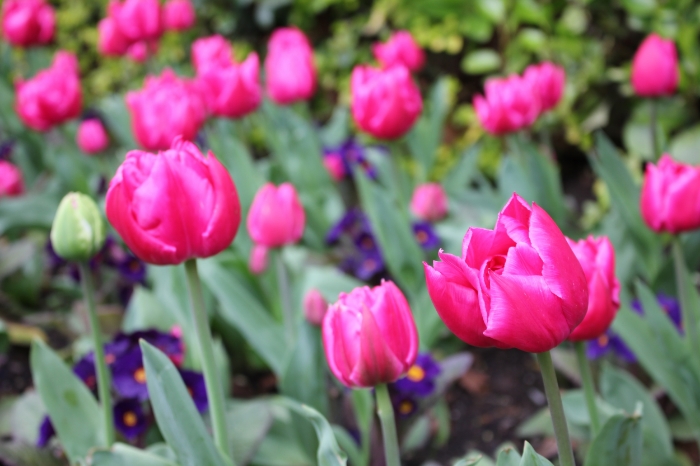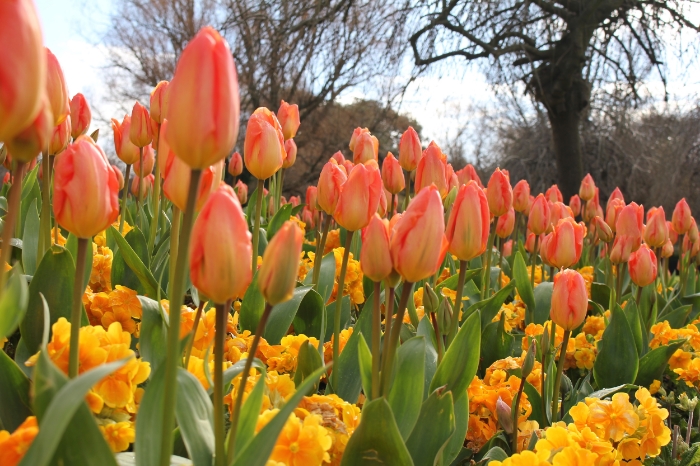 10:20
Okay that's enough photos. I hear there is some famous book around here apparently so I head off in the direction of the university.
Pass by the National Library of Ireland. Stop to take a peek inside.
Travellers tip: This library had some of the swankiest lock boxes I've ever seen. Electronic 4 digit combination that you set. They could, you know, theoretically save you having to carry a heavy backpack through the rest of the city.
Other than there wasn't much to browse as one would expect. They had a grand reading room and a small exhibit on Irish heritage to see but that was it.
11:04
Wandered over to the site for the Book of Kells mostly because it was recommended and less having to do with me really knowing what it was. I stood beside a small queue where an elderly American lady chatted me up and before I knew it I was stuck in the entrance and found myself paying the admission fee.
- €9 entrance.
Basically you enter and there are a bunch of posters on sections and features of the book which are interesting and all.
You then get to the back room with the holy item itself with a stern security lady asking people not to get too close and not to take pictures. Wondering who gets to choose what page us mere mortals are allowed to view that day.
Head on up the steps to the library. Finally getting my money's worth. Definitely would suggest a visit if the line isn't too long. Luckily it only started getting busy once I left.
Exited through the gift shop and toured the rest of campus enjoying the lovely turn in the weather passing students guiding around other visitors.
11:40
Crossed over to the Temple Bar district to take a browse. Lots of cool shops and bars here.
12:03
Next stop was the Dublin Castle, but I ended up going further than I wanted to and ended up at Christ Church Cathedral. Oh well. Snack time. 1 PB & J protein bar and handful of trail mix later (with another tour group taking some snaps of me with the church in the background). Yeah this is kinda cheating for lunch costs but I'm still not counting it.
-€0 frugal lunch
12:20
Headed to the courtyard of the Dublin Castle. I'm aware of the time so I don't take any more tours. Just browsing the grounds.
Went around to the other side to find a delightful park. More snapping of flower photos.

13:10
Check the time - should be getting my bag. Stop by the library again. Still there. Phew.
Give the security guard a plutonic wink and thumbs up on the way out to take a casually timed stroll back to the bus station I started the day off at.
13:38
Catch the bus back to the airport. Another solid 20 minute ride. Arrive with about 2 hours before my flight. Head over to collect the rest of my bags and make sure everything is still there.
- €10 for bag storage
14:03
Check in for my flight, get my 3 bags through security, onto my gate and the next adventure! With a couple euros to spare!

Until next time Dublin!